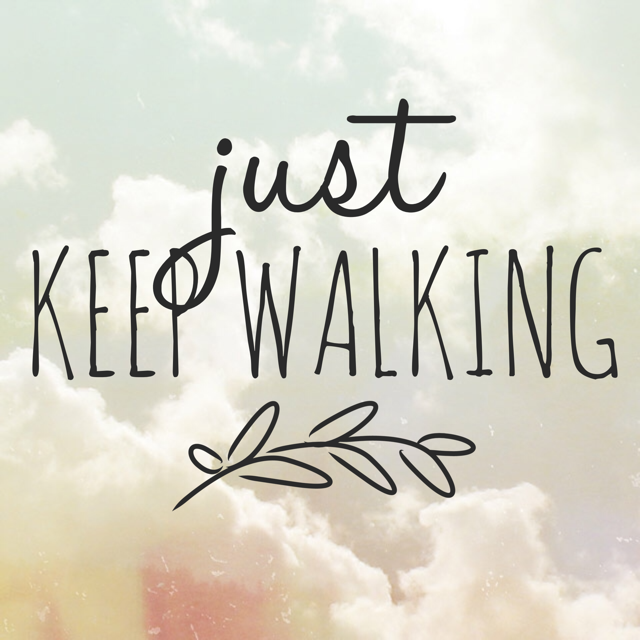 A couple of weeks ago I attended my son's grade 12 graduation. I decided before the evening started that I was going to hold it together. I'm saving most of my tears, ugly cries and convulsive sobbing for September when he leaves home to attend university.
I was doing SO well, I was really proud of my composure. Then, the school got involved and my waterworks started. I wasn't even crying about my own kid! I was all welled up because of an invisible voice using a crackling microphone backstage. She started declaring the aspirations of each student as they accepted their diploma and walked into the next chapter of their life. It was so moving and hit a deep emotional chord within me. (Well-played school, well-played.) 
I watched as those young adults took their shaky steps, feet guided with trepidation and maybe a little bit of fear. Walking from a familiar part of life into the unknown can be scary. They hobbled across the stage awkwardly in their too-high heels and uncomfortable dress shoes, not sure what to do next. Tenatively holding out their hand for a handshake and diploma, hoping someone would reach back at the right time and they wouldn't be left there hanging.   
I wanted to stand up and scream – IT'S OK! YOU CAN DO IT!! AWKWARD IS NORMAL! NEW SHOES ALWAYS HURT YOUR FEET! KEEP ON WALKING EVEN IF YOU DON'T KNOW THE WAY!
Sitting there in the hottest, sweatiest gym ever with my legs sticking to the back of the most uncomfortable chair, beside the 10 family members who snuck in, listening to a sound system that I thought might explode – my heart was filled with so much inspiration. I quietly prayed for those precious young lives filled with so much purpose and potential ahead of them as they stepped into their future. 
We don't know where life will take us, but we all have a life waiting for us. 
To the graduate who wasn't sure what they are doing next, it's ok. You'll figure it out.  
To the graduate with the goal to make people happy and smile, you touched my heart so deeply.
To the graduate expecting a baby in the fall, it must have taken a lot of courage and determination to walk across that stage. I was so proud of you. 
To the graduate who had to get up the next morning for a chemotherapy treatment, you are one of my heroes. 
I never really thought I'd find high school inspiring at my age, but I've been thinking about that night and about those students ever since graduation. Sometimes we have to step into a future that we don't fully understand or have figured out. It's ok. There are plans, purposes and hope for every future. 
Keep on going.
Shaky steps or awkward steps. 
Running fast or walking slow.
Directions not quite determined.
 Just keep walking.